Checking in
---
Howdy. Just doing the courtesy check-in so the proprietors know who is in the house!

Not much to tell about me other than a pretty much a lifelong love of any mechanical conveyance with two wheels.

Picking up a new to me GL1800 later this week. One-owner bike that has been meticulously cared for. It will be my third Gold Wing but first 1800. I did rent one for a day on a 2006 trip to Hawaii and spent the day touring as much of the island as I could pack in.

My other ride is a Suzuki DL650 Adventure. It's a great commuter and around town bike but lacks some things for the road trips. At present I'm thinking I'll sell it when tax returns start coming in next spring.

Nice place you all have here. The volume of information representing the brain trust is already proving helpful.

Kind regards to all -
---
NRA Life Member because ... "Tyranny cannot be safe without a standing army, an enslaved press, and a disarmed populace." -James Madison
Motorcycles: '01 GL1800; 2014 DL650 Adventure; gone away already: 5 BMW's, 4 Honda's, 2 Suzuki's
------------
"The object of life is not to be on the side of the majority, but to escape finding oneself in the ranks of the insane." -Marcus Aurelius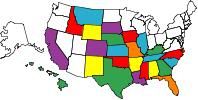 Seasoned Member
Join Date: Jan 2012
Location: Loretto,Tn
Posts: 510
Welcome aboard Rick just join on in on the fun. Lots of knowledge here
Welcome to the board! "Go west young man, go west!"
---

[FONT=Comic Sans MS][FONT=Blue Highway][SIZE=2]
2010 Level 3 DDS#1146 IBA#55800 SS1K x2, SS2K,BB1500,BBGold Certified
Disclaimer:This poster does not take any responsibility for any hurt or bad feelings. Reading threads poses inherent risks. This poster would like to remind readers to make sure they have a functional sense of humor before they visit any discussion board.[/COLOR]
Seasoned Member
Join Date: Jun 2016
Location: San Antonio, TX
Posts: 222
Welcome from Texas, rick!!!!
---
1976 CB550-Four
1994 GL1500 Aspencade
2004 GL1800 Titanium

GWRRA - promoting Friends, Fun, Safety & Knowledge.

GWRRA # 400819
Welcome from florida
---
WE ALL GOT TO GO SOMETIME .....ALWAYS TO SOON
FL. PROWLER # 62
DOUBLE DARKSIDER "WONKY" DRIVEGUARD REAR
BT 45 FRONT
Kinda new here myself but...welcome aboard!
---
Every Motorcycle can outperform it's rider.
Seasoned Member
Join Date: Dec 2013
Location: Richmond Va
Posts: 1,966
Welcome aboard Leatherneck...enjoy your new bike and the forum...

Semper Fi
John
Welcome to the forum from us a little north of you (about 28 hundred miles north and east).
Bob
---
"We must learn to live together as brothers
or perish together as fools."

~ Martin Luther King, Jr.
Welcome and another howdy from Texas.
---
Ironhorse1800, Hoss
2004 VTX1800N3 Red, Darkside Goodyear Assurance Tripletred 205/60/R16
2008 GL1800 ABS/NAV Red, Darkside #1273
[B]Michelin Primacy Alpin PA3 195/55/16 / [COLOR=#000000]Yokohama Avid Envigor ZPS
Glad to have you! Another Texas Howdy from beautiful, scenic West Texas (not). If you enjoy wind you would love this countryside.
---
Courage is being scared to death, and saddling up anyway.
John Wayne.