Member
Join Date: Mar 2017
Location: Richmond Hill GA
Posts: 7
Glad to be Aboard
---
New to Gold Wing, previous sport touring with the R1200 (x3). Before that some cruiser time. Before that what ever an E-4/5..... etc. salary would allow!

Two days into it now and am enjoying the transition.

I perused this site prior to the purchase and the information contained here was very helpful. I felt it was polite to introduce myself so as not be labeled as trolling, Jim
Welcome to forum n wing ! Post on info area your from. Bottom of main page lists states . Can look or post on there to meet/ ride to eat etc. Also plenty of trips on forum.
---
WE ALL GOT TO GO SOMETIME .....ALWAYS TO SOON
FL. PROWLER # 62
DOUBLE DARKSIDER "WONKY" DRIVEGUARD REAR
BT 45 FRONT
Seasoned Member
Join Date: Nov 2003
Location: Freeport, IL
Posts: 1,396
Welcome, Jim


Why not add your hometown in signature and/or public profile. You might acquire some rider friends and enhance your membership here.
---
Mike Lowary
Freeport, IL
King-ding-a-ling
2014 black GL1800 Level 3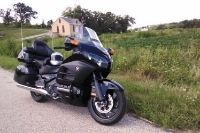 Seasoned Member
Join Date: Jun 2016
Location: Republic of Texas
Posts: 381
Quote:
New to Gold Wing, previous sport touring with the R1200 (x3). Before that some cruiser time. Before that what ever an E-4/5..... etc. salary would allow!

Two days into it now and am enjoying the transition.

I perused this site prior to the purchase and the information contained here was very helpful. I felt it was polite to introduce myself so as not be labeled as trolling, Jim
A big Texas welcome to you Jim. Glad to have you aboard. There is a ton of helpful info within these pages so enjoy the reading. Most of all, thank you for your service.
David
Member
Join Date: Mar 2017
Location: Richmond Hill GA
Posts: 7
Thanks for the recommendation and greetings. I was able to update my location but haven't been able to transfer my album pic to my profile (side left) versus signature (below).

I am located just south of Savannah Georgia which allows for year 'round riding and use my bike as my daily commute. As I enjoyed a cup of coffee this morning I wondered how it must feel to have snow on the ground and being unable to get out with a new bike in the garage. Must be like prom night!
---
Not all who wander are lost
---
Last edited by Doc T; 03-11-2017 at

06:47 AM

.
Welcome to the forum from east Tennessee. Fairly new here myself.
---
Every Motorcycle can outperform it's rider.
Another welcome - lot of good info here, and some sarcasm in abundance. But we usually reserve both for squids
.
---
Double Darksider #847
IBA #54767 BB1500+
Patriot Guard
Who I was yesterday is but a past memory, who I will be tomorrow is in the future. Who I am now and the type of person I am to others, that is what is important now.
Member
Join Date: Mar 2017
Location: Richmond Hill GA
Posts: 7
I have found a good delivery of one typically requires a good dose of the other! Glad to see some fellow swabbies.
---
Not all who wander are lost
Contributing Member
Join Date: Feb 2017
Location: Sumter County, Florida
Posts: 65
Welcome from Sunny Florida! What did you buy, new, old, color? Everyone knows white is the fastest!
---
_______________________________


[B]Prowler 1953

2004 GL1800A "The Great White" Made in the USA
Member
Join Date: Mar 2017
Location: Richmond Hill GA
Posts: 7
I got the red 2016.

While I have to admit BMW offers more toys for the buck I am hoping to decrease my time at the dealer. It never left me stranded and BMW certainly goes above and beyond with warranty support but I just never had that warm and fuzzy with reliability.

Honda won me over with their bullet proof reputation and local dealers if needed.
---
Not all who wander are lost