How to Load Test Your Battery
---
Nobody wants to be stranded by a bad battery on a trip. Some just replace their batteries after they've reached a certain (arbitrary) age, perhaps wasting a battery that may have years of life left in it.
A load test is the common man's best way to determine the condition of a battery.
I like to do one on my battery about a month before leaving on a long trip. If the battery fails, this gives me enough time to order one from Hal and perform the swap before the trip.
Here is how I do the load test the OEM Yuasa battery in my bike (my bike is in my signature):
To do it like I do, you'll need a few basic hand tools and a load tester. A digital voltmeter is desired, but not required (assuming the load tester unit has a voltmeter). A laser (or IR) thermometer is also handy to have.
Here is the load tester I use:
500 Amp Load Tester
I've had it a few years and am pleased with it. They go on sale from time to time for about 20 bucks less.
Let's get started:
First, you need access to your battery. Remove the port side cover. This just pops out, but be careful not to damage the cover.: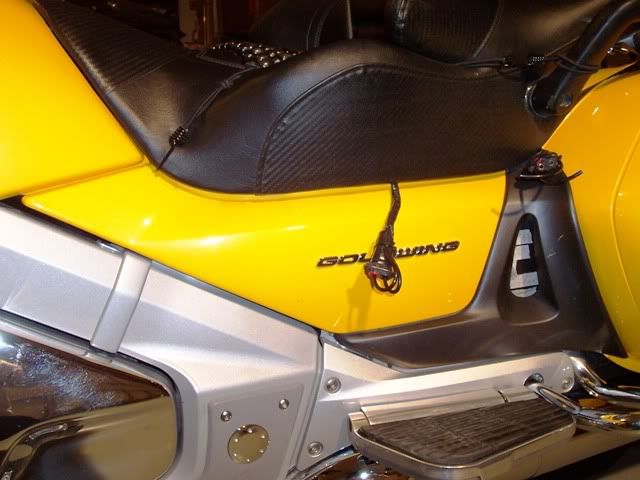 You will now see the battery. Remove the trim clip holding the black plastic battery cover plate in place, then remove the black plastic battery cover plate: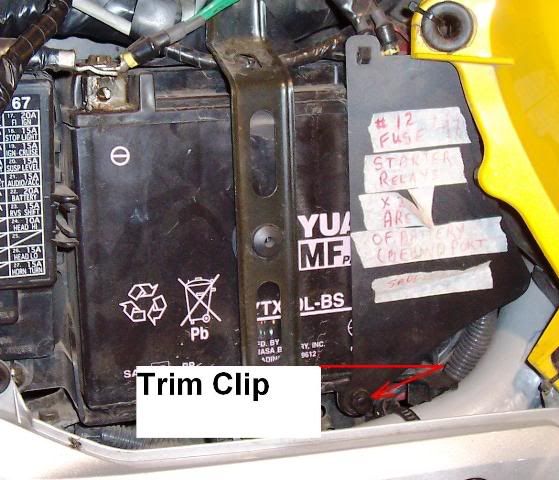 Next, remove the battery holder bolt (use an 8mm socket):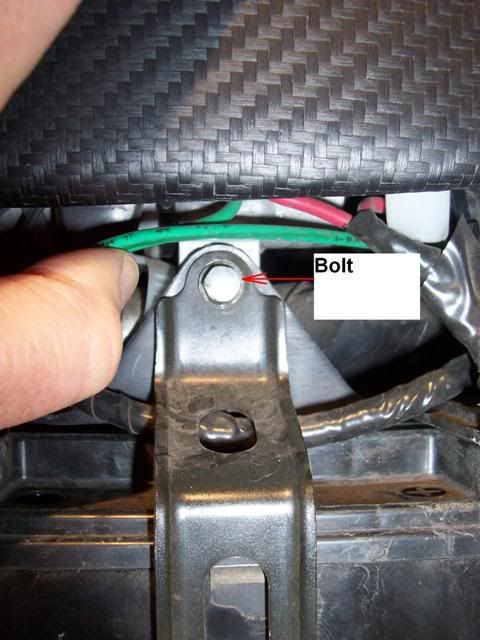 You can now move the battery holder out of the way.
The first thing you will test is the battery's unloaded voltage. I first burn off any "surface charge." This prevents the battery from indicating an unrealistically high voltage. Remember, you are stress testing the battery, not preparing it for a beauty pageant. If it's gonna break, you want it to be in your garage, not 30 miles north of Sierra Blanca, TX.
To burn off any surface charge the battery may have, turn on the bike's ignition and select the high beam headlights. Let 'em burn for three minutes: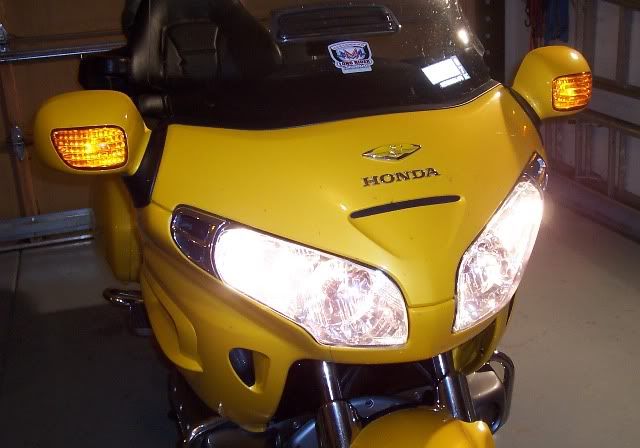 Just for S&G's, I like to monitor the battery voltage during the three minutes the headlights are on:
What you want to see is an initial voltage drop followed by a steady voltage indication. (For this test, my battery dropped quickly from 12.62 v. to 11.68 v. and then remained at 11.68 for the remainder of the three minute period). If your battery voltage keeps dropping for the three minute period, you may have a problem.
After three minutes, turn off the ignition and then wait for five minutes. Measure the battery voltage after the five minutes have elapsed. My battery indicated 12.56 v., which is fine. If you see less than 12.21 v. after this procedure, you will need to fully charge the battery and burn off the surface charge again before proceeding any further.
You will find a chart of voltages and charge levels on this page:
http://www.yuasabatteries.com/faqs.php?action=1&id=30
(Scroll down to the bottom of the page.)
Here is another source of good info about Yuasa batteries:
http://www.yuasabatteries.com/pdfs/TechMan.pdf
You are almost ready to run the load test. But first, you will need to know the temperature of your battery. To get a rough idea, you can use the temperature in your garage. I use my laser thermometer and get a reading off of the battery case. Write down the temperature.
Next, I remove the battery cables from the battery and pull the battery out far enough such that I can get the load tester clamps on the battery. The black clamp goes to the negative terminal and the red clamp goes to the positive terminal. I also position the test probes of my digital voltmeter on the terminals so I can read the battery voltage as the load test is being conducted:
Here is my load tester: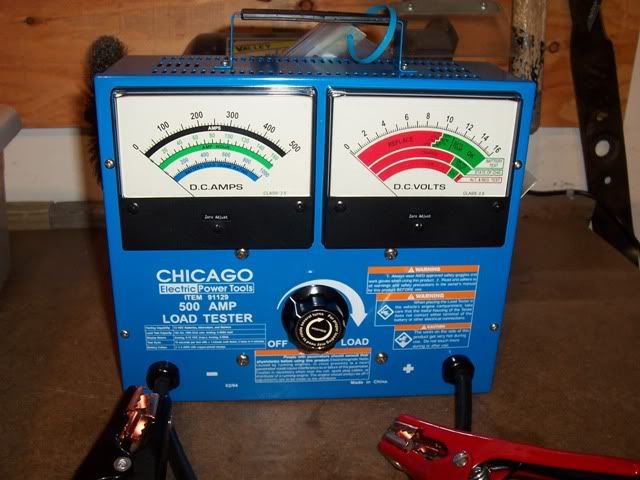 Here, you can see the clamps on the battery terminals. We are now ready to apply the load to the battery: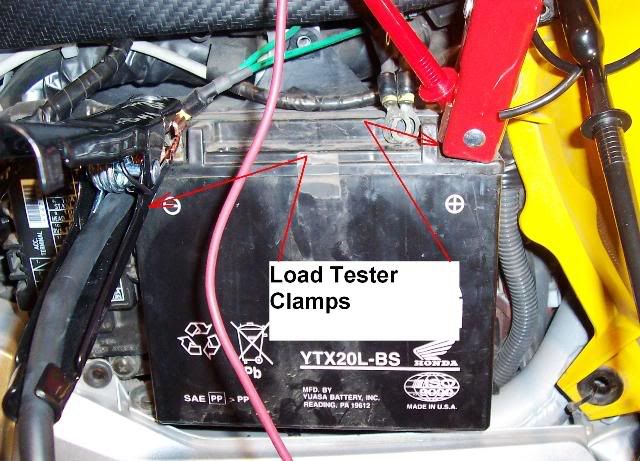 Next, I quickly twist the load knob on the load tester until I get to 135 amps of load on the load tester's ammeter. (I use 1/2 of the battery's cold-cranking amperage rating of 270.):
http://www.yuasabatteries.com/vehicle_search.php?action=showListing
(The OEM battery is the YTX20L-BS.)
After the desired load is attained, I count 15 seconds. You can count, use a watch, or use a timer. My load tester sounds a beep after 15 seconds, also. While the 15 seconds are ticking away, I keep a weather eye on my digital voltmeter and note the lowest voltage seen. It is normal for the voltage to drop slowly during the load test.
After the 15 seconds have elapsed, I remove the load using the load knob and disconnect the load tester terminals and digital voltmeter probes from the battery. You may notice a "hot electrical" smell coming from the load tester, this is normal. The case will probably warm up some, also, after the test is completed.
OK, you've now got the two pieces of data you need to determine the battery's condition.
Although the voltmeter built into the load tester has indications that tell you whether the battery passed or failed the test, I like to use the table in this reference:
http://www.rpc.com.au/products/batteries/car-deepcycle/carfaq4.htm
So, using the chart in the above reference, I see that my battery passed the test. The measured battery temperature was 40 deg. F and the lowest voltage I saw during the 15 second test was 10.23 v. All I needed to see was 9.3 volts, so my battery passed with about a 10% margin.
You've just stressed your battery, so it is important to recharge it fairly quickly to prevent deposits from forming. I hit mine with a 1 amp charger for about an hour or so.
Reinstall the battery cables, button everything back up, and you're done.
By the way, you may find it useful to keep a log of test results as your battery ages. I first load tested mine three years after I purchased the bike. The battery passed with a margin of 30%. Six months later the margin had dropped to 16%, and now (four years after I purchased the bike) the margin is 10%. I'm pretty certain this battery will get us through our upcoming 7000 mile business trip.
Here are the economics of load testing your battery vice just replacing it every three years (note, however, that I've had several motorcycle batteries not make it to the three year point): Hal wants $104.00 for a new battery (not including shipping). If you get a battery every three years, you spend about $35.00 a year on batteries. I got this load tester on sale for about 30 bucks. Because of it, I've been able to keep my battery for four years (and counting). The load tester has thus paid for itself in one year and I've got an extra $5.00 (and counting) in my pocket to boot.
Multiply that by my five motorcycles and it's better than wages!
However, more important than the economics is the feeling that you're departing on your trip with a strong battery that will get you back home!
---
Enjoying the ride,
Digger
AMA Charter Life Member #109
'05; Non-ABS; Pearl Yellow; 72,xxx Miles
I don't own a cage.
http://www.astronautbiker.com
Nice write up Digger!
Probably more detailed than many would practice....
but your detail emphasizes that you know of what you speak!
Your making the point about battery awareness is more important
than the exact way it gets done.
I would suggest anyone who rides in areas not frequented by taxis
and pop sickle venders.....
who doesn't want to get into testing their battery....
should visit one of the parts stores that check them for free.
Next to my automatic digital load tester.... I like the carbon pile tester (just like yours) the best.
---
07-Burnt Orange-ABS/NAV CSC TRIKE
Fantastic write up. Thanks for sharing. I will definitely reference this thread again.
Today, I went down like an idiot. Low speed drop. I am fine and the bike is fine. My (patient) friend who was on a 2008 GW stopped and turned on his hazards for all of five minutes while I checked my bike, myself, and my gear. After deciding I was GTG and to keep riding, his bike wouldn't start!
It was clear from the low headlight output that he had a dead / bad battery. Never would expect that on a NEW bike.
I rode to a local store and got some crappy jumper cables. Fortunately this happened during business hours and the GPS found a parts store less than a mile away.
Lessons learned for both of us: Carry cables, have an onboard voltmeter, and test your batteries. Today we both failed on all three counts. Of course all of that paled in comparison to the epic failure I demonstrated attempting a left hand U-turn.
So we finally got the bike running and made it home. Despite my urge to hide in the house and nurse my bruised ego and shun the outside world for the next 100 years, I instead got my voltmeter out and we checked the like new GW that failed to start. 11.8 V at rest, even after just coming back from a long ride. We confirmed that the charging system was working, as with the bike running and blipping the throttle it exceeded 14V. Hopefully Honda will take this as a warranty claim. No reason for a battery this new to fail so miserably.
In this case, a multimeter proved the problem, but to really put your battery through the paces you need some addtional testing tools. I have heard good things about the HF pile tester on other forums, after reading your post I will definitly pick one up the next time it is on sale or I have a coupon. I have a car with a 5 year old battery and it still shocks me that it starts even in cold weather. These test methods will keep me from replacing it too prematurely.
Or worse, replacing it too LATE and finding myself stranded
---
[SIGPIC][/SIGPIC]
Great write up ... thank you once again Digger.

I just replaced my batt after about 30 months.
... I could hear the bike was NOT cranking over as vigorously as when new
and a a load test confirmed the batt needed to be changed.

Installed a new batt and now the starter spins fast again like when the bike was new.

Test your components but also learn to "listen" to what your bike is "telling" you.

Dennis
Seasoned Member
Join Date: Sep 2008
Location: usually on your ignore list or in Ft. Lauderdale, FL
Posts: 466
Nicely done Digger.

I've had to replace a dying battery once, and the cost still makes me wince! I should have known better as it exhibited many of the symptoms but thought another few thousand miles...

Now a load tester is on the list of tools to get to maintain my vehicles.
---
[SIGPIC]http://gl1800riders.com/forums/image.php?type=sigpic&userid=41006&dateline=122770 7621[/SIGPIC]

08 GL1800ABS Black - Gone but not forgotten
06 ST1300ABS Black - Gone but not forgotten

ATGATT

IBA# 30395

SCRC 101 Road Captain

ARRL Life Member - NS1A
Oddly enough, the battery in my ST1100 just failed a load test.

The battery was still cranking the bike over just fine. However, armed with the data from the just-completed load test, I'll not be trusting that battery on any long trips.

I do, however, feel comfortable using it for local duty while I wait for a new one to arrive.
---
Enjoying the ride,
Digger
AMA Charter Life Member #109
'05; Non-ABS; Pearl Yellow; 72,xxx Miles
I don't own a cage.
http://www.astronautbiker.com
Although on a somewhat smaller scale, your method is pretty much how we load test large battery plants for commercial and government communications facilities. Depending on the battery, our load test varies between 300 and 500 amps and the cells must maintain a passing voltage for at least 4 hours. Being able to monitor a battery under extreme stress for that long allows for some interesting observations. Usually about an hour in to the test the voltage will actually rise a little. This is due to the internal resistance of the battery decreasing slightly as it heats up. I always thought heating things up caused resistance to also increase. Weird stuff!
Thanks for taking the time to post a very good and useful guide!
Seasoned Member
Join Date: Dec 2003
Location: Birmingham Alabama
Posts: 1,100
Nice article. I recenty replaced my battery in December. This was the original battery and the bike is an '02. The battery had capacity to start the engine it just wouldn't hold a charge.

Another point to remember about AGM batteries is their ability to hold a charge for long periods. When they no longer do this, replace the battery.
Thanks for this info, I think I'll set aside $3.00 a month for 36 months and buy the wing a new battery every three years.
Quote:
Thanks for this info, I think I'll set aside $3.00 a month for 36 months and buy the wing a new battery every three years.
Day,
Your technique will work most of the time. However, it would have left me stranded on several occasions over the years. I've had a few motorcycle batteries that did not make it to three years.
Ride careful out there now, ya' hear?
---
Enjoying the ride,
Digger
AMA Charter Life Member #109
'05; Non-ABS; Pearl Yellow; 72,xxx Miles
I don't own a cage.
http://www.astronautbiker.com