Easy Alternator Change
---
At a little over 85,000 miles on my '06 it developed a very high alternator whine coming through the sound/intercom system. Shortly after that the volt meter started bouncing around quite a bit. My research and troubleshooting led me to believe it was the alternator. I ordered the part from HDL and researched the board on options for replacing the alternator without removing the fuel tank. I found the posts which explained how to take the alternator out by removing the battery and battery box and using different length socket extensions to get to the inside mounting bolt, and the post suggesting removing the rear wheel to get at it. Well, after looking at the location of the bolt and experimenting a little I found a way to replace the alternatator without removing the battery or the rear wheel. Knowing what I do now, I can replace an alternator in about 20 minutes.
Here is what I did:
-Disconnect the + cable from the battery just for safety.
-Remove the side cover to gain access to the alternator.
-Disconnect the wires from the rear of the alternator. (This will provide the needed clearance to be able to loosen the inside bolt.
-Remove the two accessable bolts with a regular box end wrench.
-Here is what I used to get to the inside bolt.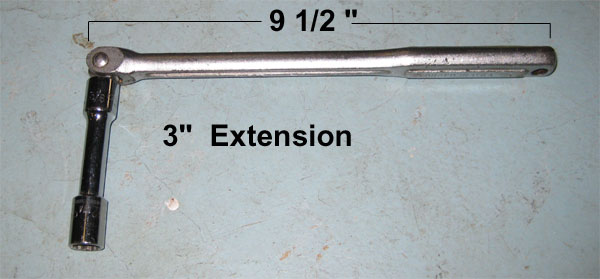 I was able to slide it in behind the alternator and swivel the socket and extension to line up with the inside bolt.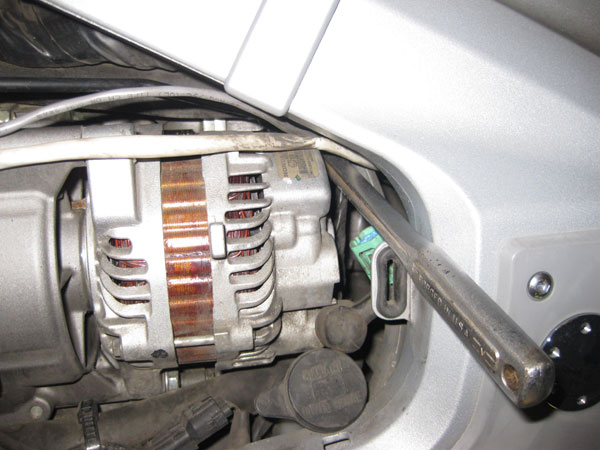 As you can see after removing the wires from the rear of the alternator, there is enough room to rotate the wrench handle down to loosen the bolt.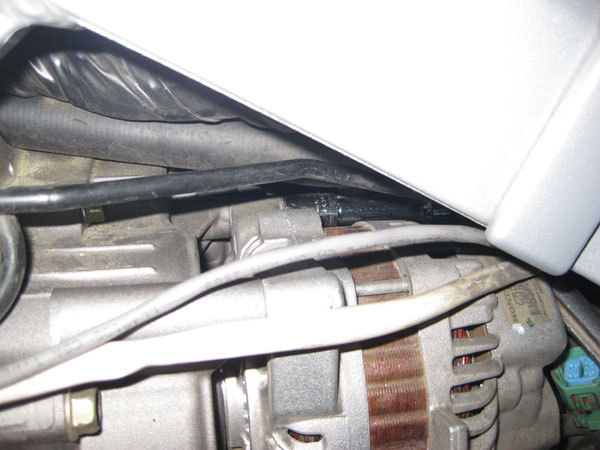 I used one of the telescoping pen magnets to help line up the socket with the bolt and once I loosened the bolt I was able to use the telescoping pen magnet to unscrew the bolt by just repeatedly rolling the magnet over the top of the bolt head.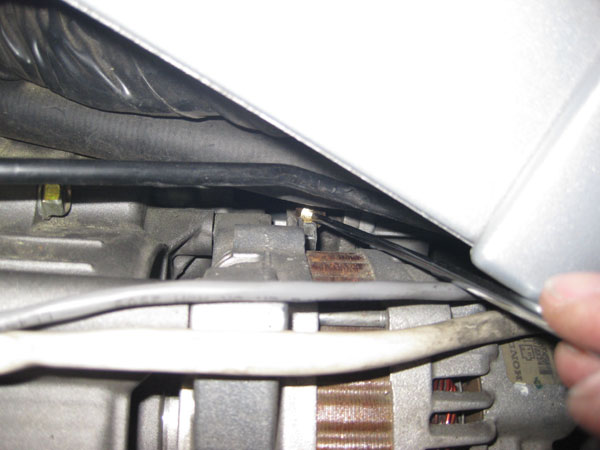 I could not believe how easy it was to do.
I hope I explained this well enough so that it will help someone else.
Hal
---
IBA# 33407
2006 Goldwing, Dark Red
Previous Bikes:
1996 1500 Goldwing
1981 1100 Goldwing
1975 1000 Goldwing
1973 CB750
1972 CB175
Retired Air Force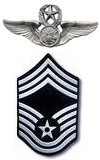 Download my GPS POI file of Honda MC Dealers with address and phone numbers.
http://www.regi.net/poi/
Thanks for the tip. Will come in very handy if and when I need it.
---
[SIGPIC][/SIGPIC]
08 DK Red GL1800
04 VTX1300C
Nice report!!
---
[SIGPIC][/SIGPIC]

Darksider #565

2009 Bloodstone Red GL1800 Navi/XM
Bridgestone G-709 front- 40 psi
Pirelli Eufori@ 195/55/16 RF- 32 psi
Hankook Ventus V4 195/55/16 NRF- 42psi
Centramatic Wheel Balancers
Total Traxxion

Former Rides: 2006 HD Streetglide
Yes, you get a "Nice Report" from me also.

Thanks!
---
Bryansong
2002 Silver[SIGPIC][/SIGPIC]
Thanks for the tip ...but did your whine go away after replacing the alternator? I have a whine I hear through the speakers but not the intercom. I done all the regular "fixes" but it's still there.
---
[SIGPIC][/SIGPIC]
Seasoned Member
Join Date: Feb 2009
Location: clearwater
Posts: 1,810
Great job ! and since you live in the wonderful state of Ga., when mine starts going bad, I will just head north with the new one, and you could give me the lesson
lol and we will see if you can get her done in twenty, lol thanks
That magnet "trick" is TRICK!!!

I changed an alternator last week and I ended up going through the rear wheel area with a number of extensions to take out that stupid bolt.

Next time, I'll know better!
---
Seasoned Member
Join Date: Jun 2007
Location: Elsewhere
Posts: 11,183
Thanks for posting this Hal. Nice write-up and pics.
Seasoned Member
Join Date: Apr 2006
Location: Michigan...................................... In The Thumb
Posts: 8,077
Good job,
I copied it and stored it away for a rainy day, hopefully it doesn't rain for a long while.
On Edit: How hard was it to get that rear bolt back in?
---
John
If Riding A Wing Is A Mid life Crisis....Bring It On!
2006 Dark Red GL 1800
Gold Wing, Adopted 4-21-06 Premium Audio/Comfort
R.I.P. Beverly, You'll be Missed!
R.I.P. Harry
R.I.P. Chuck
The "Black Pirate" has left us a message.
Did you get it?

DS 1020
Michelin Primacy Alpin PA3 195/55/16 ZP

Seasoned Member
Join Date: Dec 2003
Location: Hayden, Al
Posts: 3,205
Very good report...thanks
---
I may not have a "CLUE" about the real world..But I can spot a back stabbing "Lap Top" sissy "Dummy" when I see one.