Cause one would have to drill into the plastic 4 times, thereby weakening the plastic even more. No drilling worked for me for 60K miles, whether that was reason or not.
---
Mike Lowary
Freeport, IL
King-ding-a-ling
2014 black GL1800 Level 3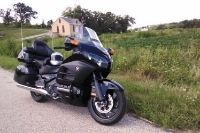 Or did they maybe make an earlier set that only mounted with tape. Which would be useless. The set shown in the picture depicts the one I have, which requires some tapping of the fender mounting holes to bring them all the way through?
That would be 3 holes, but the are located no where near where the fenders have been known to crack
Pardoned. I was referring to the bottom holes, good luck
Seasoned Member
Join Date: Nov 2003
Location: Independence Ohio
Posts: 19,632
Quote:
Come on Larry. They attach with two bolts to the top fender mounts, and two thread nuts to the bottom.The tape is just for vibration on the sides.
I don't remember any mounting holes on the original Bushtec version. I looked in my parts stash, and I don't seem to have them anymore, so I can't say for certain. It did not look like the Show Chrome version pictured above.
I was never convinced that fender extenders were causing the problem, but I don't have a theory that can prove otherwise. I have had an extender on my bike since it was nearly new, and 15 years later the fender is still fine. Folks without extenders were getting cracks too, and the problem never turned out to be as prevalent as feared. I never was very good at playing follow the leader, so I guess I just never bothered to worry about the whole debacle.
---
Larry
2002 Illusion Blue GL1800

---
Last edited by LarryM; 01-09-2017 at

10:50 PM

.
Seasoned Member
Join Date: Nov 2003
Location: Wi. Rib Lake
Posts: 18,104
the rear half of my front fender broke at 250,000 miles, that was the only warranty claim Honda ever denied on me, they denied it simply because I had a show chrome fender extension not a Honda extension. I repaired the fender with some $50 3m epoxy and it's still holding fine. Despite what the Honda rep said I say the reason the fender broke was because the anti dive valve was stuck. I disabled the anti dive valve and removed the fender extension, the only time I miss the extension is when I ride on gravel roads and sand gets stuck in the radio buttons. If your bike is under warranty I would be very reluctant to install a aftermarket fender extension or the braces because if it does break Honda will use that excuse to deny your claim.
---
ehcycledude@yahoo.com
02 GL1800 yellow 475,000 smiles
Rode my bike to Trailer Week
2013 Yamaha Tenere
I don't think you need the braces, I have a fenda extenda on my bike since 2005 with no problems.
They are a light piece of ABS plastic compared the heavier metal from other venders.
No holes needed, ABS cement them to the fender.
---
later...Randy
2005 Billet Silver ABS
....... 1967-1971......
Proud Member Of The PGR
Since 2006
ext.
---
I hear ya Larry. Stuck anti. dive makes sense as the shock of the stiff ride might crack it. Also over tightening the bolts.
I put them on mine and the fender cracked anyway

Sent from my VS987 using Tapatalk
---
Member of the ...I HATE SNOW CLUB !!!
Maker of Darkside paraphernalia...
Darkside #1112
FB Page: Goldwingers of Wisconsin

https://www.facebook.com/groups/444126032442402/
http://powersports.honda.com/recalls.aspx