Seasoned Member
Join Date: Aug 2015
Location: Fort Whoop-up...near Head-Smashed-In, Alberta
Posts: 276
Scratch Resistance - F4 vs VStream
---
Any opinions on the quality of the scratch resistance between the various F4 offerings versus the VStream Special Edition with "Quantum" coating?
---
Ian (IBA# 65781)

Current Street: 2008 GL1800 Level II - R303 Dark Red Metallic, Various & Sundry Add-ons

I liked 2-Strokes...a lot
Still do.
Seasoned Member
Join Date: May 2016
Posts: 131
No experience w/VStream but, I can tell you my F4+4, tinted and vented is the best money I ever spent on my bike!!!!!!!
Seasoned Member
Join Date: Apr 2016
Posts: 1,489
Same situation as smokeeater.
My F4 has a small nick from something hitting it,but has no noticeable scratches.
Simple answer for me is.. the F4 is extremely scratch resistant as advertised.
Why try any other?
Doug
Seasoned Member
Join Date: Mar 2015
Location: pontiac, illinois
Posts: 576
I have a V stream special and no noticeable scratches. it was on my bike ehen i got it so no idea how old it is. Coincidently i got my bike,now a trike, from National Cycle in Chicago, the manufacturer of the wind screen and wind wings, they are on it too.
---
When you have one, ride it. If you have one and don't ride it, whats the point.
Seasoned Member
Join Date: Aug 2012
Location: pleasant city, ohio
Posts: 137
Not sure of the V, but my F4+2 is over 8 years old, and other than a couple of rock chips, there are no scratches. I have cleaned it with every type of paper towels and rags, and have used different cleaning "stuff" and it still works great and looks great!
Here is a video we just did last month that might show you how tough the F4 is.
Thanks


Seasoned Member
Join Date: Apr 2016
Posts: 1,489
It isn't just the windshield that makes F4 the best choice for me.
It is the way they treat you with their direct customer service approach when you have questions or an issue.
That means as much to me as a scratch resistant windshield.


Doug
I've got the F4+2 tinted, and I wonder why it took me so long to get one. I had to replace my OEM windshield due to a bird strike which completely shattered it.
---

Vietnam Veteran 68-70 (9th Infantry Division)
Member of MOPH (Military Order of the Purple Heart)
GWTA Oregon Chapter A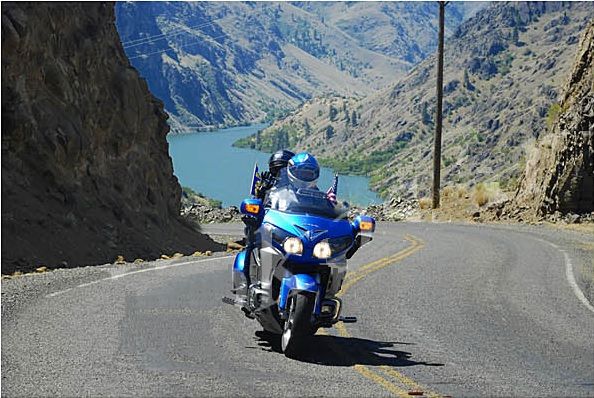 Seasoned Member
Join Date: Mar 2006
Location: Springfield Massachusetts
Posts: 2,448
I got a F-4 and love it.............when I sold my old 02 wing the first thing I did was to remove the f2 and put it on my new 2010

Ronnie
---
Captron- Springfield, Massachusetts
I retired at 55 years old- no more boss
more time to motorcycle and complete the "honey do" list..........