Lightening up!.. Maybe!
---
I've pulled a small camper for many miles over the last few years. It has it's advantages and disadvantages. for one you can carry more stuff in a camper and you have a more comfortable place to sleep. The only real drawback that I've found is that you have that 350lbs or more thing behind you everywhere you go unless you set up a base camp. I was on a trip across the south about a month ago and ended up camping when I really didn't expect too. I stopped by a local sporting goods store and picked up a ENO Double Nest Hammock set up including the rain-fly and a bug net. I set it up the first night right out of the box, which in most cases is not a good thing to do. But it worked out OK. I didn't get it real tight in the trees so I was sleeping in a slumped position. Maybe it just takes some practice setting it up right. I could see where the ENO wouldn't work if I was in an area lacking trees... But I like the fact that it' easy to set up and take down. It's light wight and packs away in the saddlebags. No trailer behind me all day!

Anybody else have a hammock system and want to share lessons learned?
OTHERS WILL CHIME IN. THINK MISTERK USES ?? HAVE SEEN USED AND PEOPLE LIKE THEM ALOT !!! ALL YA NEED IS 1 TREE AND HOOK ROPE TO TO HITCH N
"PULL IT TITE "
---
WE ALL GOT TO GO SOMETIME .....ALWAYS TO SOON
FL. PROWLER # 62
DOUBLE DARKSIDER "WONKY" DRIVEGUARD REAR
BT 45 FRONT
Contributing Member
Join Date: Aug 2016
Posts: 47
avid hammock camper here. to really make a hammock setup versatile, at the very least you're going to need to install a hammock ridgeline to maintain curvature of the hammock when hung. Also, you'll need top and bottom quilts to stay warm, and a tarp for poor weather conditions.
Contributing Member
Join Date: Aug 2016
Posts: 47
also, most camping hammocks are designed to lay asymmetric to get the flattest possible lay. the wife and I use dutchware hammocks with whoopie sling suspension.
https://dutchwaregear.com/
Seasoned Member
Join Date: Apr 2006
Location: Oconomowoc, WI
Posts: 1,156
Love Hammock camping been hanging for the last few years now.
The wife and I are hooked. Sleep so much better off the ground. We
have three hammocks now wife has a Amok, she love it.
https://www.amokequipment.com/
I have Hennessey and a Dream.
A good book to get is the Ultimate Hang and check out their web site.
http://theultimatehang.com/
Remember you do not lay like a banana in a hammock, you across it on a diagonal. Also many hammocks have a right lay and a left lay. If not laying the correct way it will not be comfortable.
Picture of some camping trips.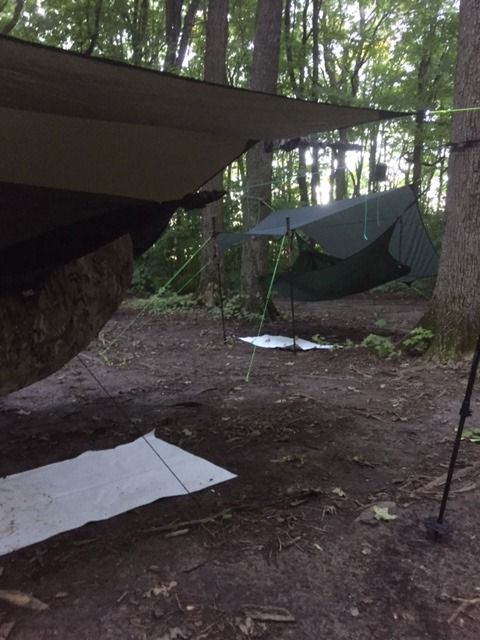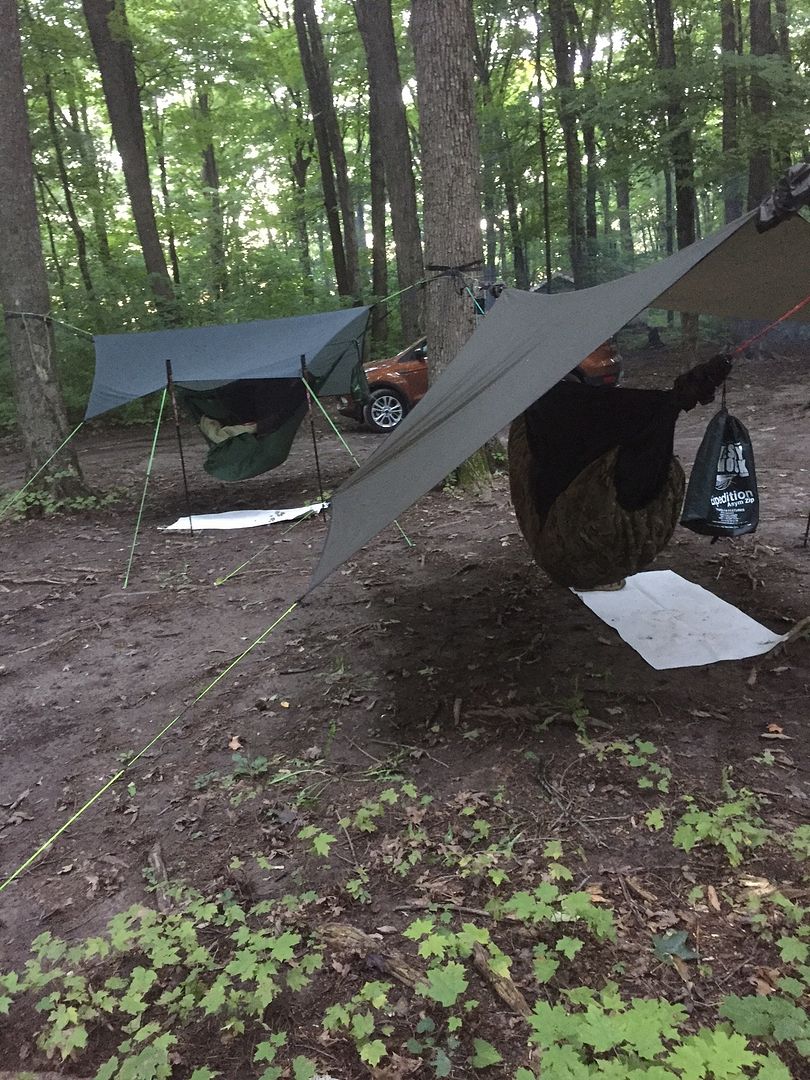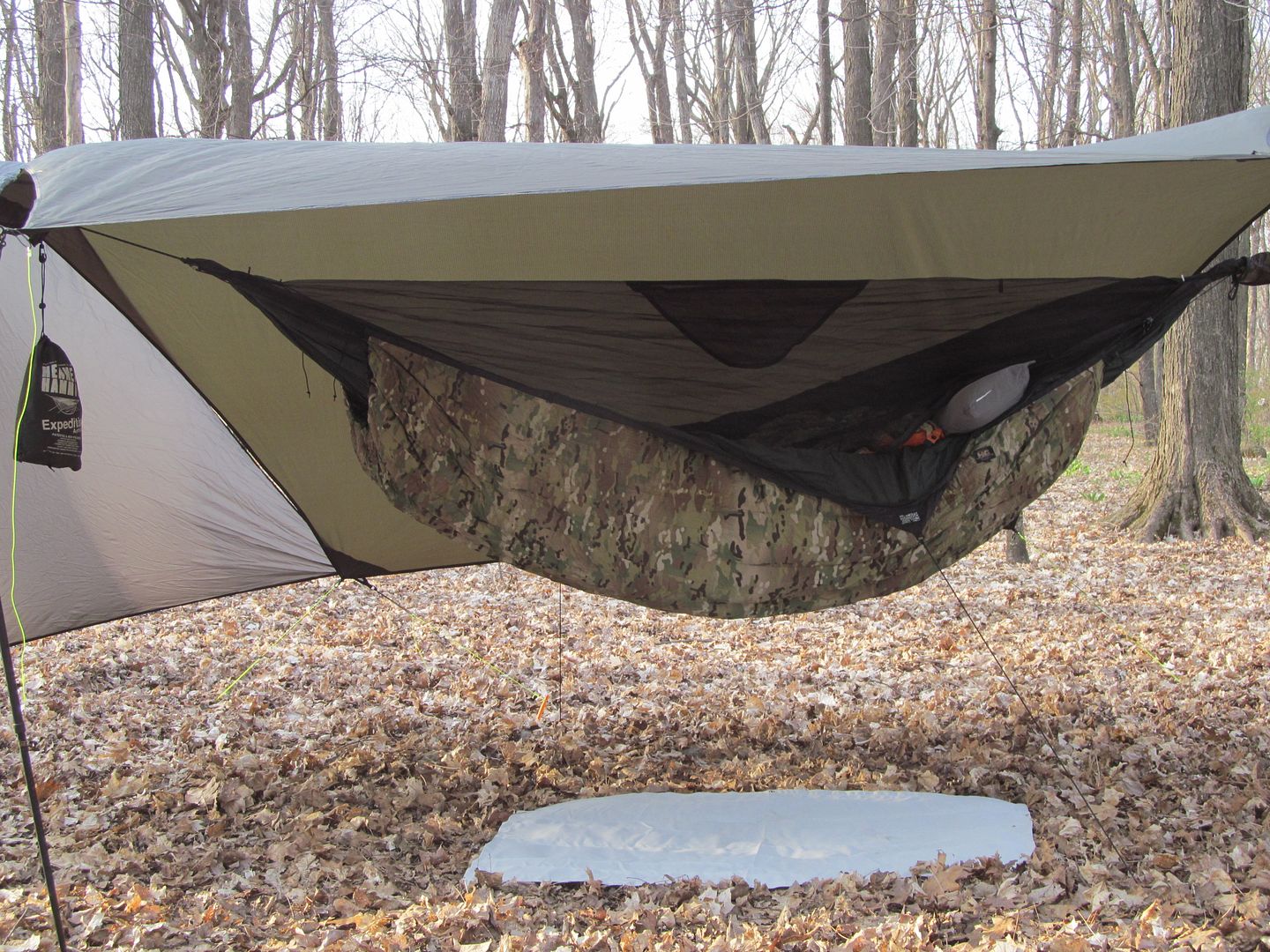 Lee
---
June, Loren and the old man
Alaska Spotwalla 2016 trip map
https://spotwalla.com/tripViewer.php...8574eaea630208
MAN NOT FOR ME !!!!! OK FOR A POWER NAP .. I CANT SLEEP IN A MUMMY BAG ...BODY NEEDS "TO ROAM "
---
WE ALL GOT TO GO SOMETIME .....ALWAYS TO SOON
FL. PROWLER # 62
DOUBLE DARKSIDER "WONKY" DRIVEGUARD REAR
BT 45 FRONT
Seasoned Member
Join Date: Dec 2003
Location: Upstate South Carolina
Posts: 779
Quote:
MAN NOT FOR ME !!!!! OK FOR A POWER NAP .. I CANT SLEEP IN A MUMMY BAG ...BODY NEEDS "TO ROAM "
Also where do you plug in the CPAP machine??
Actually I enjoy camping on trips and really like what I see here. It looks like fun and with much less gear than lugging around a tent, sleeping bag, etc.
---
2008 Titanium ABS Airbag
Mega Monty - Heli Bars
How easy and fast is it to pack up all those trees?
My back is complete junk . Thank goodness my chiropractor is a miracle worker . I used to think the hammock idea would be the worse thing for it . After lengthy discussions with Biker2v ' a chat with Doc Crackin Back , a chat with my Doc, and the fact of I sleep on a te pure pedicure old man be that elvates my feet and upper body I essentially am sleeping in a hammock
. I am seriously considering buying a hammock for adventure riding solo trips . I will never ever sell my Leesure lite , but hauling it with KLR or little China Girl is impossible . I have all the other light weight camping stuff already. Where I plan on riding will always be trees to support hammock , or pipeline if I ver get to Alaska and ride the way I want to up there in back country an advnture bike . So I have changed my mind about folding up like a banana to sleep . BTW I hate fruit , so it's even more evident I am serious .
---
Livin life to its fullest daily to prevent regrets later,,, or I am a freaking loon . Either way I am good .
Where's Rail now??
http://share.findmespot.com/shared/f...ahHnkalxai42Hi
= no eating or drinking warning . Whenever this is seen on one of my posts ,please put down the food and drink as to prevent choking hazard while trying to laugh with mouth full. Nothing worse than coffee out ones nose landing on keyboard . Nothing !
Seasoned Member
Join Date: May 2012
Location: MD near DC
Posts: 1,588
I'm becoming a big fan of hammocks. I really like the Kammock Python straps and strongly recommend using a ridgeline (google it). The two together make it very simple to get a good pitch.

It stuns me how cold your butt can get. Nice in the high summer, a bit of a downside in March in most places.

On this year's to do list is: 1) experimenting with a bug net (I've got the tarp bit down, but don't have one of those complete system rigs and I'm netless at the moment).; 2) maybe tinkering with different insulating layers for under the body when it isn't high summer, though the Thermarest pad I've been using is OK.
---
This is my signature block. There are many like it, but this one is mine.

My signature block is my best friend. It is my life. I must master it as I must master my life....