Seasoned Member
Join Date: Nov 2015
Location: Bonaire GA
Posts: 178
Riding pants-Thoughts recommendations!
---
I am looking for something to use as I would a pair of jeans but with protection & breath ability( Live in the south hot summers) . I am looking for either perforated or mesh pants that have protection ,rain liner would be a plus but not a necessity. Looking for quality and bang for the buck lol. I did see these
https://www.revzilla.com/motorcycle/...-dry-pants,and
fit what i am looking for I think was wondering if anyone else had any recommendations? Thanks in advance!
Seasoned Member
Join Date: Jun 2016
Location: Republic of Texas
Posts: 395
Check out the Tour Master Venture Air. They are mesh with armor and not too expensive.
Might want to check out motorcyclegear.com They usually have good sales going on....
---
When I die, I want to go peacefully like my grandfather - in his sleep. Not yelling and screaming like the passengers in his car!
2004 GL1800 - Titanium
Motoport.

motoport.com

Protect safely.


Sent from my iPhone using Tapatalk
---
Bob E.
[SIGPIC][/SIGPIC]
It is like sport to a fool to do wrong, but wise conduct is pleasure to a man of understanding.
Member
Join Date: Nov 2015
Location: Boise, ID
Posts: 13
Olympia Airglide. With lightweight long underwear as a base layer they are more comfortable for me than Draggin Jeans.
---
Quote:
Check out the Tour Master Venture Air. They are mesh with armor and not too expensive.
Plus one here for me too!
---
Florida Prowler #23
DS#933 - 100,000 (smiles)
2008 Pearl White GL1800A Canada
2012 Pearl White GL1800A USA
ATGATT
All The Gear All The Time
Keep the shiny side up!
Seasoned Member
Join Date: Nov 2015
Location: Bonaire GA
Posts: 178
I am looking for a 2-3 season pant,but dont wont baggy fit! I can always put rain gear over pants to block both wind and rain!
Seasoned Member
Join Date: Nov 2003
Location: Freeport, IL
Posts: 1,407
Another vote for Motoport
---
Mike Lowary
Freeport, IL
King-ding-a-ling
2014 black GL1800 Level 3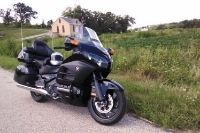 ---
Last edited by gray red rider; 04-20-2017 at

11:57 AM

.
I find it difficult to shop for pants on line.

I rather go to a store, lOOk at the pants, and try them on for size.

I recommend cyclegear stores. They are all over the place. Sure their stuff is cheap, but hey! its just clothing to ride a bike not to attend a gala.

I went to the Revzilla store in PA but their stock is limited; mostly high-end and a lot of crouchrocketeer stuff.

Don't even bother to visit Motorcycle Superstore in Medford OR. I went out of my way 100 miles to find it it ain't there anymore. Gone on line.

If you want really expensive but good stuff, BMW stores are for you

Aerostich in Duluth is said to be good, though I never been there...yet.


MORE THAN YOU PROBABLY WANTED TO HEAR:
The dilemma with Summer pants is that on at least some occasions, your mornings can be quite chilly (particularly if you are around the Coast or in high altitudes). At that point, mesh pants are not.

I have mesh pants, but I can cover them up with a rain pant and/or an inner liner to handle chilly Summer mornings. You 'll only need to handle about 40deg at most.

If it gets colder than that, I assume I forgot to get back home before the Summer ended.
---
"hum, fear not evil I shall"
"All things with Christ's strength I do"
Yoda quoting the Bible.
Another vote for Motoport. Hands down the best you can buy. And they can be custom made to fit YOU.
---