This one doesn't get talked about much, but it's my favorite. It's made by Show Chrome.
Here it is on WingStuff's site:
http://wingstuff.com/products/147-ta...ds_accessories
What I like best about it is not only is it taller than stock, but it's considerably wider than a stock shield. The extra width seems to help with the wind buffeting on my wife on the back seat a good bit compared to stock.
***
---
--------------------------------
2006 GL1800 - Arctic White
1987 GL1200A - Black/Gray
1976 GL1000 LTD - Candy Special Maroon
1971 CL100S Scrambler - Blue/White
U.S. Navy SWO (1967 to 1976)
Member
Join Date: May 2013
Location: Baton Rouge,Louisiana
Posts: 27
Seasoned Member
Join Date: Mar 2006
Location: Michigan
Posts: 1,329
F4+4 vented is what I have ran for the last 6 yrs & 110K+ miles. Buffeting is much better than the stock shield, rain protection is much better and it is much better in cold weather. It is much more resistant to scratching than the stock shield and can be cleaned with windex and a paper towel & RainX can be used without damaging it. I haven't dealt with any of the other manufacturers but can state that F4 Customs has unbeatable customer service both before and after the sale.
---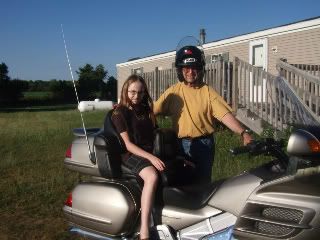 Darkside #750
Bridgestone DriveGuard ROF @30 PSI
Bridgestone 709 Front @ 36 psi
Centramatics
F4+4 with vent
Baker Wings full monte
Honda of russellville painting me a new wing. Already ordered an optic armor -2 tinted and vented
Not much consensus here so far, no big surprise.
I'm still using the original vented Honda screen that came on my bike. As a solo rider, it has held up pretty well for me though it is getting more scratched so I would like to replace it at some point if I can ever decide on a replacement. At this point, I am inclined to replace it with another Honda screen.
After making my first multi-day trip with the stock screen and being beat up by wind (in the Dakotas), I put another Windbender short with top curve on again (had it for years on my previous bike-1500) and felt at home again. I consider getting brackets for it to allow the adjustment out but other than that, I am very pleased. Some in group rides need to clean the bugs off just to see, where I look over my windshield and could care less how many bugs it gets. Put a Windbender on my sons 1500 also,, and he agrees that it is a big improvement over stock, he says it's safer too, because it clears up the view ahead when scanning for deer.

JMartin rides an F6B, that brings up a good point about aerodynamics, the trunk will cause it's own wind issues, then put a bag on top of the rack and ride solo, and it seems like you need more windshield just to prevent the scoop affect from all that mass behind you. Then there are the windwings everyone puts on that cause another aero-issue. That is why they make all these different windshields. Choices are good, none are bad, just education $$$.$$.
Any screen lasts a long time if you always clean in vertical swipes so the scratches go in the same direction. Use a clean microfiber too. For bugs, I carry a spray bottle with water and peroxide. The bugs just bubble right off. With an F4, though, you can clean it with anything.

Sent from my SAMSUNG-SM-G935A using Tapatalk
---
2001 GL1800 Illusion Red
Time's fun when your having flies!
"Summer's lease hath all too short a date"--Bill
Stock, I bought a Taka on sale a couple of years ago but have never put it on the bike. The stock shield just works for us.
---
Others may sell you the sizzle, But Honda will sell you the steak!!!
Seasoned Member
Join Date: Dec 2013
Location: Hot Springs Village, AR
Posts: 446
f4 is what most riders on this board prefer.
---
Ride AR
JSR
Seasoned Member
Join Date: Jul 2016
Location: Northwestern Illinois
Posts: 157
I've had bikes in the past where the stock screen was unbearable with buffeting and noise and replaced them with Clearview, which was.....Ok. I bought my Goldwing new last summer, and being 5'7" I had the dealer set up the stock screen in the lowest position and have ridden with it this way ever since. It seems to do a really good job, and my wife as passenger seems satisfied, but in truth I have no idea how much BETTER an aftermarket screen might be. On my stock screen, despite the vent, I find even a mesh jacket is too hot to wear for true summer riding. The screen seems to keep too much air away from my chest, but still produces a lot of noise and turmoil around my helmet. Can anyone here comment on how their aftermarket screen (and which one) affects airflow in the heat of summer? I guess what I am saying is that a screen that provides even more protection from airflow than the stock screen might seem nice, but if it makes me feel even hotter I will not likely enjoy using it. I'm not at all sure what I should consider.
---
Retired U.S. Army and now FULLY retired!
Former Instructor with the MSF