Front end wobble
---
I'm having a serious problem. I have a front end wobble at low speeds that has gotten worse & worse until I no longer feel it is safe to ride my bike.
It started a couple of weeks ago when a shop mounted my tire but installed the wheel backwards. I rode the bike for about 800 miles before I noticed it
, the bike suddenly developed a slight wobble at speeds below 20 mph. I had the shop put the wheel on correctly & that seemed to correct the wobble for about 30-40 miles then it returned.
Since the dynabeads were correctly installed, I didn't think that an out of balance condition was the problem.
I suspected a possible bearing problem, sure enough 1 of the 4 bearings had a circumferential crack. The shop that mis-installed the wheel provided the bearing & seal kit free, so I replaced them.
The wobble is still there & has gotten worse, it now wobbles at speeds of 35-40 or less & the wobble has increased in severity.
Does anyone have any ideas?
I'm wondering if it could be in the neck bearings.
---
Riding since 1974
on just about anything with 2 wheels

2006 GL1800
Front Wobble
---
Check your rear tire for wear. Then replace it. The wobble goes through the frame making you think it is in the front. This has been discussed on other thread here on GL1800Riders.
Seasoned Member
Join Date: Nov 2003
Location: On Work Release @ Soggy South Orygun Coast
Posts: 9,099
How many miles on the tires? I would start by looking at those and the wheels. Put it on a stand, start it up and run it up to about 50, see if there is an undue vibration.
If that looks good, I would get a new set of wheel bearings for the front(there are a total of four, with seals and All Balls brand has sealed bearings on both sides of each of the four, as opposed to the OEM one side seal and spacer) The only way the shop could have checked the bearing is to remove them, and if they screwed up once, why not twice?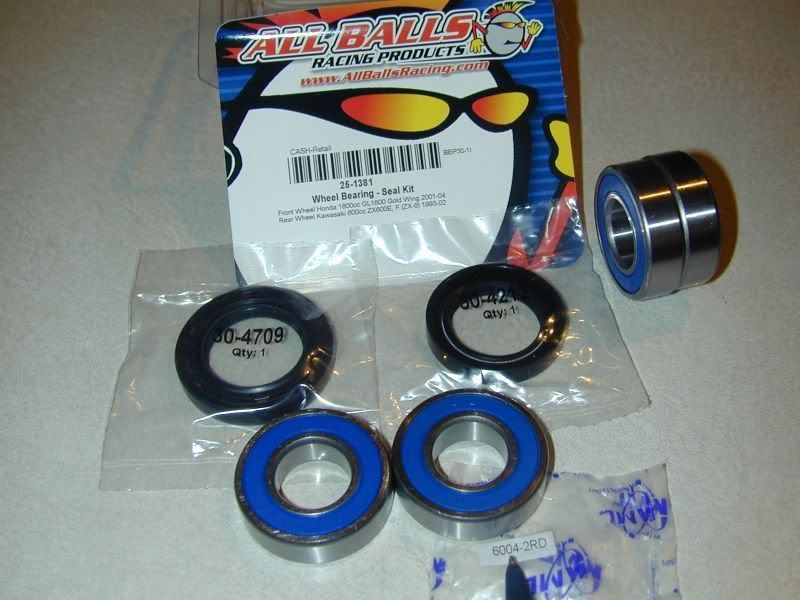 If that did not do it, I would change the stem bearings from the ball OEM type to the roller All-Balls type, which is quite a bit of work.
---
Happiness keeps you sweet, trials keep you strong, sorrows keep you human,
failures keeps you humble, success keeps you glowing, but only God keeps you going

[SIGPIC][/SIGPIC]
Seasoned Member
Join Date: Dec 2005
Location: Nanaimo, BC
Posts: 589
I had a rear tire (Metzler) de-laminate and it felt like the front . The symptom was the same as you describe.
---
Mike
You didn't say which tire you replaced, front or rear. The older tire could be the problem. Cupped tires cause a lot of wobble and can be either front or rear as both cup. BTW over 50% of stock GWs wobble at decel 45 down to 35 and Honda's answer is to keep your hands on the bars.
---
06, Dark Red GL1800
Darksider #107
Michlin Alpin 195/55/16 Run Flat (28psi) 5th one
Bridgestone 701 bias ply front (36lbs)
Rest in Peace, Beverly
Florida Prowler #3
Seasoned Member
Join Date: Jan 2006
Location: Albuquerque
Posts: 1,021
I had the same wobble from a bad new front tire, no brand name mentioned or your thread will be stolen with a tire war. After replacing the front tire the wobble was gone. 500 miles later it started again and I replaced the rear (same brand installed at the same time as the front) and have never had a wobble since. I did not change the front immediately as there were no tires available at that time. I tried Traxxion forks, no help, All Balls tapered bearings in steering stem, no help. (Please don't steal the thread for an All Balls and torque setting debate) Sometimes good tires just go bad and sometimes they start out bad.
Wobble
---
Most of the time the wobble is from the rear tire as mentioned. I have never had a problem but I know the All Balls bearings replacemant in the forks sure made a difference in the bikes handling. IMO they also reduced the "cupping" on the front tire.
One last comment, get a good shop with competent tech's to do your service work.
---
[SIGPIC][/SIGPIC]
Norm and Alice Mitchell
04 Black Cherry, Bushtec GL
04 Yamaha Virago
Front end wobble
---
Just went through this after having the left fork repaired...

The dealer thought it was the rear tire causing the problem... They replaced it and the problem continued... I told them to replace the front tire since I always change out both tires at the same time.

The new front tire fixed it! Also, when I purchased my '07 it had a wobble from the get go... The fix was a new front tire. We found that the tire that came with my wing was defective. I'd be interested in knowing what your fix is...
Re: Front end wobble
---
I have a 2005 GL1800 that I bough used. It had a bad wobble at 35-50mph
I went to WingDing and looked at all of the after market options for solving the problem.
I decided on a steering stabilizer made by Seeley Products. This stabilizer made a instant differance in the ride and handling of my Wing.
I these units sell for $575.00 on WingStuff.com and at the Seeley Products web site (
www.seeleyproducts.com
).
I had talked to the owner of Seeley Products about becoming a dealer for these units and purchased 2 of the kits to use as display items. I was given a discounted price $510.00.
I have since been laid off and can't pursue the dealership and have the 2 units for sale at my cost here on GL1800riders in the for sale forum.
Please go to the Seeley web site and research this item.
I have put over 10,000miles on my Wing since the install and love it.
---
What A Long Strange Trip It's Been!!!!!
[SIGPIC][/SIGPIC]
BigMike
I guess I don't understand why the mechanic doesn't step up and fix this correctly... shrug...

Ok, no cost or low cost things to do that will point you in the right direction. Borrow a rear wheel and tire for a test ride. Should take more then 30 minutes to swap and test ride the bike then return the wheel. Steering stem can be eliminated by just re-adjusting the stem torque according to the manual. If you want to go crazy, then pull the top off, clean and re-pack the top bearing. Drop the forks down enough to clean and pack the lower bearing. Re-assemble, torque by the book, then test ride. This next one is a bit more complex, but for a short test ride shouldn't hurt anything. Swap front wheels with another known good one. Yes I know the rotors and pads will be mis-matched but for eliminating a severe wobble, this test ride would also be very quick.
---
Larry Price
Edgewood, WA
I run Hybrid Tires....
Front: Bridgestone Exedra G709 130/70R-18
Rear: Michelin Primacy Alpin PA3 ZP 195/55R-16