Quote:
Amazon also sells Purolator filters and free shipping with prime membership. Was running a bigger filter but have gone back to a regular size. From what I've read Fram would be the very last choice for a filter. Purolator or Wix would be worth looking for. Most auto part stores have em.
I used the long one a couple weeks ago, tough gettin' in there. I will use the regular one from now on.
---
Being blacked out, I spend no money on chrome !!
2014 AB Hannigan Gen II Trike, Aux Fuel, Full SoCal LED's, HeliBars, Klock Werks, etc etc.
1981 CB900C Loaded / for sale too.
Thanks Jim for posting these links. Everything "oil" is explained in full detail. Book marked it on my iPad so I can refer back to it as needed.
---
2008 gl1800 black abs, comfort pkg., nav, cb.
Kuryakyn centrefold (not my idea).

motorcyclist not a biker.
I use the WIX product on my equipment. They have recently been coming in two versions, one touted for synthetic motor oil and the original for non-synthetic. The media is supposedly a bit more efficient on the XP versions IIRC. There is also a motorcycle specific version which is apparently the non-synthetic version painted white instead of black and with the model number of 1000 or such. There was previously a member here that was adamant that car filters were BAD - BAD - BAD for our cycles. There is often a grain of truth in such rumors. The Honda filter for our bike is used on a great many other applications, many of which have very puny oil pumps as are common on small engines, thus the filter may have fairly loose efficiency. Our GL1800 pumps are quite robust and such gives us one less thing to worry about.


prs
---
2002 Black Standard Brakes "TE MEGA MONTY"

DARKSIDER #1249

"Well, Chester; choos'n friends goes kinda fast once the shoot'n starts." Mathew Dillon to Chester Goode
Seasoned Member
Join Date: Jan 2014
Location: Tyler, TX
Posts: 456
I have used Fram filters on various vehicles years ago, but once I learned how cheaply they are made, I no longer consider them. They may "work," but with so many better choices out there, why use them? Fram filters use cardboard end caps for their filters rather than metal that most others use. They may work, but I am just not comfortable with them. To reiterate what I have said in past oil filter threads, The cost, or cost difference, between an OEM Honda filter and a cheaper auto filter that meets specs is more or less the cost of one tank of Goldwing gas. Look how many tanks of gas you will buy during the life of an oil filter. Is one more going to make riding a Goldwing out of reach?
Inside a Fram motorcycle filter: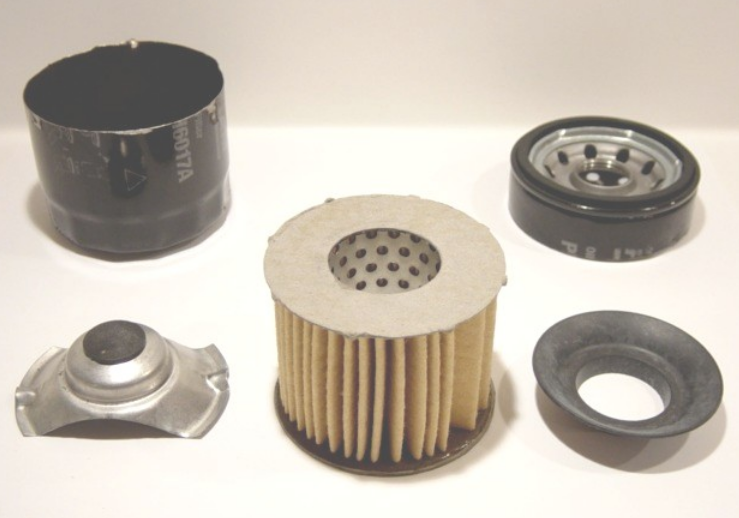 Seasoned Member
Join Date: May 2012
Location: MD near DC
Posts: 1,603
What speedbump said.

Also be careful on the SuperTech filters. They used to be thoroughly adequate and inexpensive, so a great value. They went off the shelves for a while, came back with a new supplier, and now are just cheap.

Even with a lousy filter, your Goldwing probably won't die from oil issues so I don't think it's valid to freak out about Fram and others. However, with the big differences (quality of seals, anti-drainback valve, etc.) and other very economical options readily available, there's just no way to legitimately endorse them. For me, I won't use them, unless in a ridiculously obtuse hypothetical and unlikely pinch.
---
This is my signature block. There are many like it, but this one is mine.

My signature block is my best friend. It is my life. I must master it as I must master my life....