Member
Join Date: Sep 2016
Location: Texas
Posts: 6
Nice man really getting it into them corners!!
Seasoned Member
Join Date: Jul 2016
Location: Salisbury NC
Posts: 180
Well done !!!
You slung that battle cruiser around the track very well.
Did you run a car tire
---
Darkside #1420
Seasoned Member
Join Date: Aug 2013
Location: Norwalk CT
Posts: 201
Outstanding! Thanks for showing.
Member
Join Date: Aug 2016
Location: Oregon - Wet side
Posts: 14
That is great! Oregon has an advanced rider training that lets you get out on a go kart track for half a day but a full fledged track day would be amazing! Gonna have to look into that!
Quote:
Car tires not allowed.
I was wondering if they were allowed. Guess I gotta get another rear wheel to mount a "track tire".
---
-Howard

'06 Titanium ABS
Purchased 10 Sep 12 w/16K.
Michelin Alpin PA3 ZP Run Flat (Rear), Dunlop E3 (Front)
Added: Windbender Windshield, Utopia Backrest, Flash2Pass, SpeedoHealer, Brake Light Modulator, Tail/Trunk Light Conversion Harness, Kisan Headlight Modulator, Bushtech Hitch, Progressive Monotubes, All Balls Steering Head Bearings, Signal Dynamics Heads up Voltage Monitor, Tire-SafeGuard TPMS, Belly Pan, LED Brake/Turn Lights (front & rear), +other misc.
Seasoned Member
Join Date: Nov 2003
Location: Freeport, IL
Posts: 1,410
Follow the leader
---
Quote:
OH, MY!!! That would be FUN!!
We'll be right behind you, Monk...
---
Mike Lowary
Freeport, IL
King-ding-a-ling
2014 black GL1800 Level 3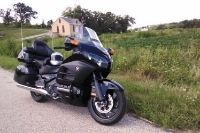 Contributing Member
Join Date: Oct 2016
Location: Carrollton, TX
Posts: 58
Quote:
To keep glass off the track in the event of a crash.
Quote:
Actually we were required to either tape over the mirrors or remove them. The reason is so that you are focused on what's ahead of you, not worried about what's behind you.
Wow, that is one beautiful track, what views, almost distracting from the focus of the race-line...
Sure looks like you had a great time. I've often thought about taking mine out for a day like this, but the bike is simply too expensive, for how fast I ride (when on my other bike)... (defer to my YouTube channel and you'll understand) =)
Dave is correct, the tape on the mirrors / turn signals / brake lights (which I noticed some did not have, and is alright in this big-bike scenario, but in a Sport bike session, that's a huge No-No!), is to prevent any sharp shards of plastic or glass coming off the bike, in the event of it going down, and thus to prevent other bikes running over those pieces and rupturing the tires, causing a more dangerous riding situation.
Breezly is also correct, that it allows the rider to more-focus their attention on riding, and what's ahead. On the track, the rule is, "who's ever front wheel is ahead, has the right-of-way".
Have been doing track days and racing for six years now, I've just about put as many miles there, as on the street (not really, but it feels like, add up the MPH, and I sure have equaled the track to the street) =) ...
First day on the forum, and first post. Sure glad to find some riders who really like to get out there and have some fun on their Wing's!!!
---
Current bikes: 2008 Honda Gold Wing, 2013 Kawasaki ZX-10R (track/race only)
Past bikes: Harley Sportster and Road King, Honda VTX 1800 F2, two Honda CBR1000RR (one street / one track)
http://www.youtube.com/user/N7HEVN
Over 117,000 miles on two wheels since Feb 2003. Love to ride!