Seasoned Member
Join Date: Nov 2009
Location: Houston, Texas (area)
Posts: 371
Problems with board
---
Help.......When I go to this site using MSN the site continually locks up, but if I use Google Chrome it does not happen......any suggestions as to why?


Thanks.....
Seasoned Member
Join Date: Nov 2003
Location: Freeport, IL
Posts: 1,409
I think it is a result of an update IE sent out about 6-8 mos ago. Probably related to Adblocker also.
---
Mike Lowary
Freeport, IL
King-ding-a-ling
2014 black GL1800 Level 3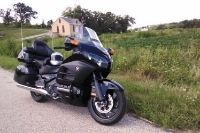 Moved here for faster tech support .
---
Livin life to its fullest daily to prevent regrets later,,, or I am a freaking loon . Either way I am good .
Where's Rail now??
http://share.findmespot.com/shared/f...ahHnkalxai42Hi
= no eating or drinking warning . Whenever this is seen on one of my posts ,please put down the food and drink as to prevent choking hazard while trying to laugh with mouth full. Nothing worse than coffee out ones nose landing on keyboard . Nothing !
My team at work manages over 2,000 PCs. Chrome is a generally faster browser. It is my preferred browser. Internet Explorer is chock full of demons.

Jackson, MS
---
Jack
Jackson, MS
IT Manager / Real Estate Investor
2008 Honda Goldwing
1998 Honda Shadow VT1100
Seasoned Member
Join Date: Sep 2006
Location: Jaynes Station, AZ
Posts: 6,569
Search for compatability mode & invoke that for this website.
---
● "Get busy living, or get busy dying." -Andy Dufresne, The Shawshank Redemption 1994 ● ΜΟΛΩΝ ΛΑΒΕ ● IBA #50030 ●
Seasoned Member
Join Date: Jul 2004
Location: Grand Rapids, MI
Posts: 5,743
You will be happier and more successful if you use chrome all the time or firefox. MSN has lots of problems reported.
---
Administrator
Join Date: Sep 2013
Location: Toronto
Posts: 864
Microsoft has been pulling support for it's older browsers in favor of Edge. We're doing what we can to keep it compatible, but it's getting harder and harder as time goes on.

If adding compatibility mode (which is in your Settings) doens't help at all, let me know.

Kevin